Book of Shame formed by an Orcadian man Peter Boyd AKA Big Roy (who abandoned at birth by his whaler mother) and a hybridized Cockney cum Prussian The estimable Gary Bridgewood AKA Gmun met in Hackney, London in the mid 2010s, their debut album due out in March spawned the track Compatibility which Big Roy turned his immersive talents upon. A protégé of Nonny de la Pena, for the past two months he hasn't been seen, when we say immersive we mean it, sachets of condensed milk is all he's survived on, these were passed beneath the door to his editing suite, when asked what he was doing he was finally heard from behind the closed door 'I responded and I wish I hadn't, I don't know what I'm doing or what I'm doing here, LET ME OUT' delusional and wasted he produced this stunning visual celebration for Book of Shame…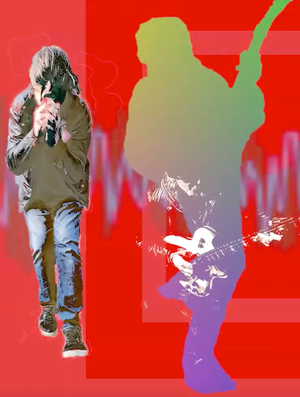 This video kicks off with their own definitive brand of dirty sounding psychedelic pop rock. Big Roy sings about the revelation of love, the momentary blindness, hope, loss and redemption, singing as if he were the character Lemmy Caution from the dystopian sci-fi film Alphaville: Il ne s'agit pas du bas, Il ne s'agit pas du bas, C'est plus sur la façon dont nous sommes, Dans notre compatibilité, Cela nous libérera.  
Raunchy and rivetting, Put quite simply it rocks.